Partnership for the Digital Transformation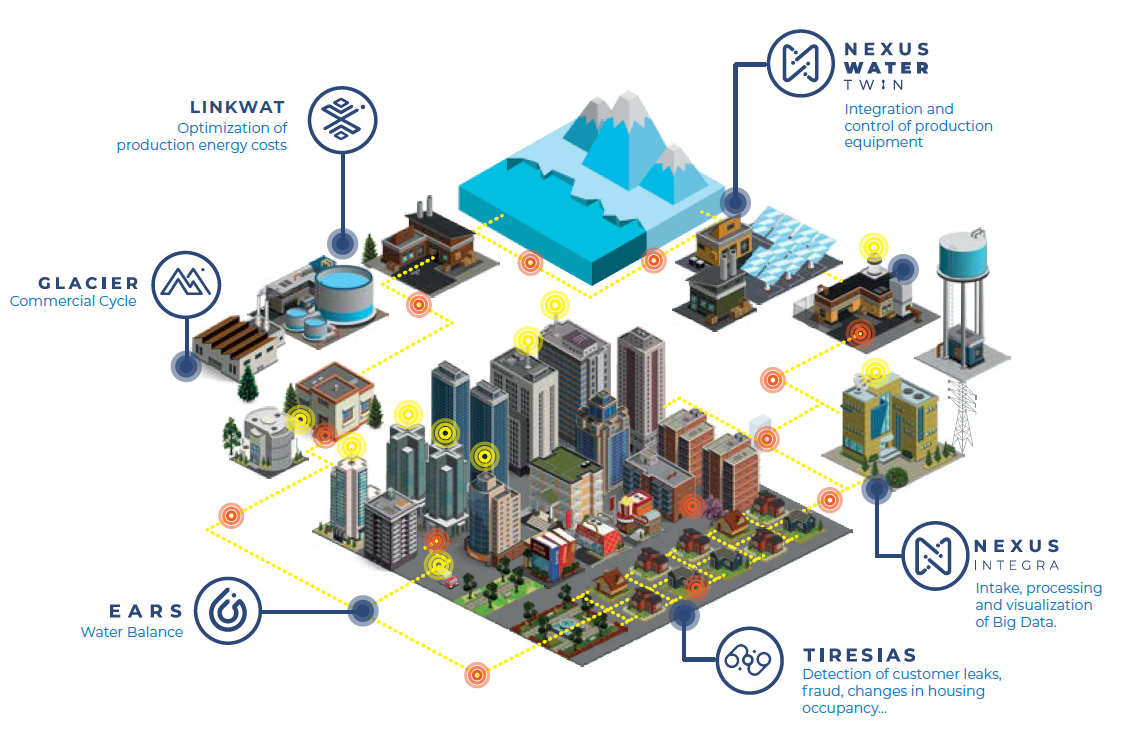 In theory, we can make a leap forward in two ways: in the hard way, by learning, testing and improving permanently, or in the easy way, by copying those who have already been recognized. In life, we know that usually no standard recipes can be applied for success, no matter how resounding the model we are proposing to follow. Most often, the path to success is a twist between the two approaches, one starting from the personal, direct and continuous effort and the other, which involves pursuing and implementing an already proven success model. This is our case.
Set Mobile – a Romanian IT company founded in 2004, specializing in software solutions for enterprises with field activities, including water and sewerage service operators and GoAigua, the IT solutions company member of the Global Omnium Group – the water service provider in Valencia and over 400 cities in Spain, Latin America, Africa and the Middle East, is pleased to announce the launch of the long-term partnership with the goal of implementing in Romania and adapting to our reality the digital solutions for the water industry developed by GoAigua over the past 15 years.
The relationship between the Romanian software company and the water company in Valencia has evolved since 2014 on the occasion of a joint research and development project co-funded by the European Union. Within this project, where Set Mobile has been awarded the title of the most innovative partner, Global Omnium has run a pilot project to attract subscribers in order to influence the demand for water during periods of climate stress. The success of the research project has been the basis of trust from which we have started to expand cooperation.
GoAigua Digital Applications includes an IoT analysis platform and five specialized solutions for Digital Transformation of Water Supply and Sewerage Operators:
Nexus Integra is a robust, agile, IoT analysis platform that allows water service operators to experiment and implement the most optimal decisions resulting from large amounts of data processing. The data used for decision processing come from multiple sources – intelligent counters, flow and pressure sensors, and SCADA systems, the analysis results being personalized as multidimensional graphs. Nexus Integra is an extensible, scalable, high-performance data integration system with a distributed service-based micro-service architecture that processes large volumes of data in parallel. The platform integrates the already existing IoT solutions into the operator infrastructure, being developed as a distributed data center (DC / OS) system. This allows the management of a large number of servers, equipment and sensors both in the cloud and in the local area -a single web interface. The platform is constantly evolving through the development of new components that aim to deliver a complete response to the Industrial Digital 4.0 Transformation process, being implemented by a significant number of water supply operators.
Nexus Water Twin creates a digital mirror of water production processes by 3D rendering of a complete plant or production facility as requested by the operator. The solution monitors and controls real-time process variables, providing a 360 degree view of water production. In the event of unusual events, the integrated surveillance system sends alarm messages, making it easier to reduce response time.
Linkwatt is the solution to minimize energy costs required by water distribution processes. The implemented concept is based on optimizing the operation of high-power electric pumps used to fill water tanks. Linkwatt provides a full analysis of energy prices, tank water levels, and demand forecasts using advanced Machine Learning algorithms tailored to the unique features of each source.




EARS efficiently manages hydraulic performance across a water distribution network by processing debit, pressure and consumption values, and managing integrated monitoring data from multiple sources. EARS automatically scans these data for different types of events, such as leaks, frauds, or equipment malfunctions. So far, the solution has helped save over 8 million cubic meters of water, which would otherwise have been lost in inefficient networks.




Glacier is an integrated water business cycle management system that allows centralized customer management in a multi-company and multi-concession way. Glacier can be tailored to the needs of each operator by providing meter reading functionality and automatic billing, revenue management, debtor tracking and asset management. In addition, it interconnects with accounting and customer relationship management systems of any complexity, ranging from local management solutions to international ERP solutions.




Tiresias strong> is an intelligent meter data analysis service that allows for quick network identification and notification based on remote readings. Tiresias processes data to automatically identify situations such as leakage, fraud, or meter manipulation. And this solution connects flexibly with different management systems, allowing passive notifications via email, or generating active notifications, such as automated phone calls or scheduling visits to subscribers' homes.
Set Mobile is the exclusively authorized partner for Romania to implement GoAigua dedicated Digital Transformation solutions for water and sewer service providers. These solutions add to Set Mobile own solutions, such as Aqmeter – the web and mobile portal dedicated to water company subscribers, which allows the implementation of basic features in the company-subscriber relationship:
Selfreading / displaying of remotely read index counters;
View invoices in electronic format;
Online payment of invoices;
Requests and notifications regarding contracts, invoices, counters;
Contract data update;
Receiving public and personal notifications from the water company.

As Jaime Barba Sevillano – GoAigua CEO stated:
"We are witnessing the revolution in the world of water, consisting in the widespread deployment of smart meters and infrared sensors (IOT), in the digital transformation of internal processes and external water companies and generating added value from data processing algorithms (Big Data, Artificial Intelligence). Those who will not be able to quickly identify and solve water leaks, apply energy efficiency algorithms in water production, integrate information-gathering and day-to-day operations, risk disappearing in the coming years. It is an obligation of companies and governments to efficiently use the most valuable resource of people, water. "
Want more information about how we can help you implement Digital Transformation in your company? Contact us at office@setmobile.ro .
Thank you!